****  February 2021 Update:  We have found that someone has illegally posted donkeys for sale on Facebook using some of our donkeys photos and information.  If you are interested in any of our donkeys PLEASE contact us directly.   *****
**** MAY 2022 Update:   Again, we have found that a criminal has illegally and fraudulently posted donkeys for sale on Facebook using our farm name and some of our donkey photos and information.  Please do not fall for their scam!   Please contact us directly if you are interested.  If you are interested in any donkeys we offer for sale, then you are welcome/encouraged to visit in-person to our farm near Letts, Iowa before buying. We do not request payment on Facebook or Craigs List, and do not request payment using PayPal, Venmo, crypto currency, gift card, debit card, credit card or similar system.  Please help us find these criminals and report them to law enforcement.  Thanks to all of our donkey friends out there helping to keep a look out for scams.   Thank you."****
Sunny G Acres is proudly owned and operated by Carmen & Dorie Gruetzmacher of Letts, Iowa. We are located in the southeastern part of Iowa, 25 miles south of Interstate 80… just 12 miles from the Mississippi River town of Muscatine, Iowa.
Raising Quality Registered Miniature Donkeys & Micro-Mini Donkeys has become a passion for us… they are our "kids". Anyone who's been around miniature donkeys knows how sweet and loveable they are. Our donkeys are handled daily and given LOTS of TLC from the day they're born! We give our jennies time off between foals; therefore we only have a limited number of babies for sale each year. We are there for almost every birth and imprint all our foals. We do our best to give each and every donkey the love, care, and training that makes them happy, well mannered, and socialized, so they can provide a lifetime of enjoyment.
Our donkeys are all microchipped for identification purposes. Many of our donkeys are DNA typed as well.  All donkeys are kept up to date on vaccinations and deworming.  Hoof trimming is done on an as needed basis.
In our breeding program, we strive to raise miniature donkeys and micro-mini donkeys with great conformation, extended pedigrees, wonderful dispositions, as well as small sizes and in a variety of colors. We specialize in micro-mini donkeys.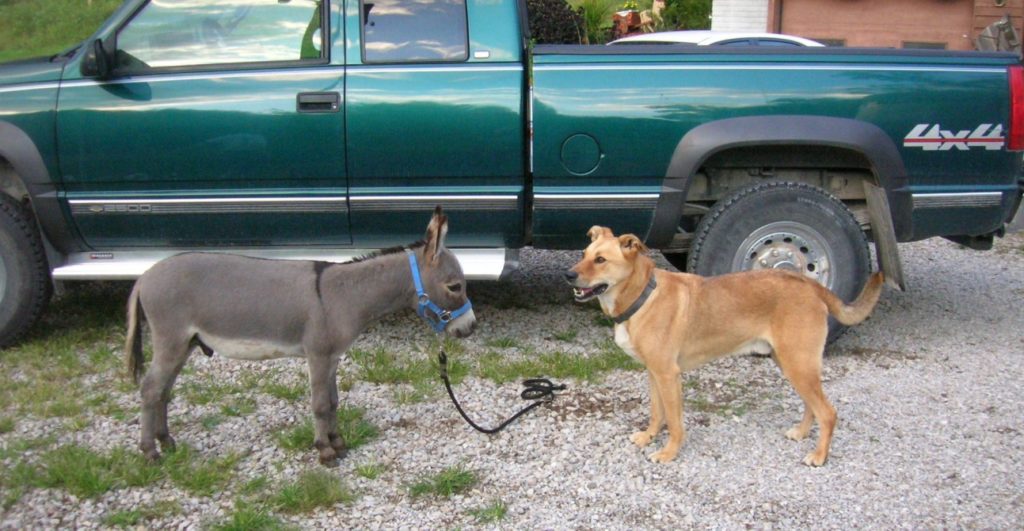 We have some of the smallest mature Miniature Donkey herd sires in the world. "Sunny G's Starbuck" and Sunny G's Captain are both only 25.5″ tall, making them less than 1/4″ taller than the Guinness World Record's shortest registered Miniature Donkey.
Starbuck and his son Captain have nice conformation and throw wonderful small foals. In addition to Starbuck and Captain, we also have a number of other outstanding micro-mini herd sires to compliment our small jennies. Some are Starbuck's sons, and others are from unrelated bloodlines. We feel blessed and thankful to have such a wonderful micro-mini donkey herd!!!
Visitors and inquiries are welcome, please contact us to schedule a visit. We love showing our donkeys and talking to other animal lovers. We have met many wonderful people through our donkey adventures… both here in the USA and overseas. Sunny G Acres has raised donkeys for over 22 years and has experience with everything that goes along with it including exporting donkeys around the world. We always look forward to meeting others who share our love of donkeys.
We hope you enjoy our website and consider us when buying your 'first' or 'next' donkey.